PLANTABLE PENCILS-ECO FRIENDLY SUSTAINABLE RECYCLED NEWSPAPER PENCILS - CARROT-SPINACH- GROW ME- DONT THROW ME -ECO FRIENDLY STATIONERY
PLANTABLE PENCILS-ECO FRIENDLY SUSTAINABLE RECYCLED NEWSPAPER PENCILS - CARROT-SPINACH- GROW ME- DONT THROW ME -ECO FRIENDLY STATIONERY
PLANTABLE PENCILS-ECO FRIENDLY SUSTAINABLE RECYCLED NEWSPAPER PENCILS - CARROT-SPINACH- GROW ME- DONT THROW ME -ECO FRIENDLY STATIONERY
View Product Information
We're sorry we're out of stock, but we can let you know as soon as this product becomes available again.
Enter your details below and we'll email you once this item is back in stock.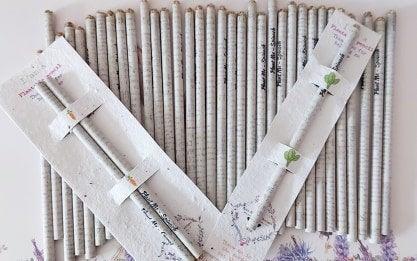 Send this product to a friend
PLANTABLE PENCILS-ECO FRIENDLY SUSTAINABLE RECYCLED NEWSPAPER PENCILS - CARROT-SPINACH- GROW ME- DONT THROW ME -ECO FRIENDLY STATIONERY £3.00
These handcrafted pencils made from recycled paper are an eco friendly and unique alternative to high street options.
Rewrite the future of our planet by using eco friendly alternatives to everyday products.
These make an amazing gift for children - Teach them from an early age about the importance not only of recycling but also using recycled products, as well as the value of growing your own vegetables and herbs.
We also have these in a gift set alongside a plantable card and seed bombs, the perfect gift for teachers as an end of term present, lets face it they are all sick of mugs!, this way they get a gift they can actually use. 
Not just for children and teachers though these make a brilliant small token gift for literally anyone for any occasion. Made using eco friendly materials and high quality graphite pencil core, which is sustainably sourced. Layers of recycled newspaper are wrapped around the core, and compressed together so that it functions exactly like a normal pencil. The rolled paper is upcycled newspaper scraps and decomposable. 
YOU WILL RECIEVE- 2 PLANTABLE SEED PENCILS 1 Spinach & 1 Carrot 
Plant the pencil stub when it's too short to write with and see it grow into tasty carrots or delicious spinach, perfect for those homemade pizzas and a great way of growing your own 5 a day!  Or if you are impatient remove the end of the pencil and plant the capsule- it is all fully compostable. 
All aspects of the Plantable pencil are sustainable and non-toxic. It includes a fully biodegradable seed capsule to the 100% natural clay and graphite core. 
For planting seeds: sow them directly into the ground, nutrient rich soil which is slightly loosened is most favourable. Sow 1cm deep in the soil with 5cm between seeds. Cover the seeds with soil and compress soil surface. 
AS AN EXTRA BONUS- THE SLEEVE IS MADE WITH PLANTABLE WILDFLOWER SEED PAPER SO YOU CAN PLANT THAT TOO!!! Water regularly at the root and keep in a well sunlit area, greenhouse or poly tunnel.
Price includes free postage.